Stockholm is a city made up of 14 islands on the east coast of Sweden. It's known for its beauty, architecture, and culture. It's one of Europe's most beautiful cities because of its stunning backdrop of the Baltic Sea. It's also filled to the brim with parks and waterways. An ideal location for a romantic getaway.
A great place to go is Montelius vagen, which is a walkway, taking in amazing views of Lake Malaren, City Hall and Riddarholmen. It's especially beautiful at sunset. You might want to do some serious decision making while you're walking because it's a popular place to pop the question.  So if you feel like dusting off the knee then this is the place to do it.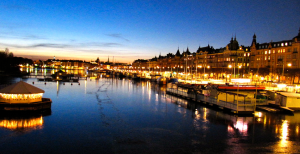 The Chinese Pavilion at Drottningholm is a beautiful palace with a heart-warming love story. The Asian inspired building was a surprise birthday present for Queen Lovisa Ulrika in the 1750s from her husband King Adolf Fredrik. It is still one of Sweden's royal palaces today.
Another thing to see is Stockholm City Hall and Gardens. The building itself has a luxury restaurant and is the venue of the Nobel Prize banquet. Guided tours of the building and grounds are available, which include the Golden Hall where the walls are lined with 18 million golden tiles and the garden that contains a small hedge maze and two statues by Carl Eldh overlooks the north shore of Riddarfjarden.
You can't go to Sweden without visiting a spa. At Luxury Spa in central Stockholm they offer various couples treatments including a bath and massage which consists of a traditional Swedish thermal bath with essential oils followed by a soothing massage and a glass of chilled champagne.
Now that you and your partner are nice and relaxed it's time for a bite to eat. A very romantic spot is Gondolen, which is a restaurant that is hovering 33 meters above the sea and offers the best views of Stockholm and a fine dining experience. There's also a bar downstairs where you can sip cocktails while admiring the breath taking scenery. If you really enjoy the food you can recreate it when you get home because the Gondolen offers gastronomy and wine tasting courses as well.
For a place to stay in Stockholm, the Mornington Hotel is perfect. It's situated in a quiet part of Stockholm but it's in the middle of the city centre. You can relax there by browsing through the 4000 books in the library, which is open to guests and visitors, dining in the traditional Swedish restaurant or enjoying a massage in the Health Club.
Alternatively you could stay in the Hotel Lilla Radmannen which is also located in a quiet part of the city but again it's very close to the all the action. The area is known for antique and vintage shops and green parks. It's the perfect hotel to base a shopping trip in as it is also just moments away from the main shopping street. Each of the 36 rooms are decorated in a stylish and modern fashion and the hotel also has a lobby bar which serves food and light snacks. Also remember that exclusively for ebookers customers we have 10% off Hotel bookings; just enter the following code to avail of this. FBHOTEL10 (see terms)
Write a comment